The Wonder of Incense Cedar Wood – Everything You Need to Know About This Incredible Material
When you're ready to make your dreams of owning a custom log home a reality, your choice of materials can be pivotal in your project. For example, any wood you choose will bring its own set of pros and cons to the proverbial table. Selecting a great all-around option can seem challenging, but it doesn't have to be. One wood that stands out in suitability for log cabin builds is California Incense Cedar, also known more commonly as Incense Cedar. Native to the Pacific Northwest region of North America, this softwood tree boasts a host of remarkable attributes that can make it the perfect choice for building your dream retreat. 
Why is Incense Cedar the Top Choice for Log Cabin Construction?
Incense Cedar is a top choice for many reasons. Here's what you need to know about this incredible wood option and why it's one of the top choices for log cabin construction. 
Durability & Resilience
Incense Cedar is renowned for its durability. It naturally repels insects as well as decay and rot caused by moisture, even when exposed to harsh weather conditions. You may be familiar with cedar chests and cedar lined closets, which are crafted with cedar specifically due to its intrinsic ability to keep bugs away from linens and fabric clothing.
You may have also heard of cedar shakes for roofs, but not roof shakes made of any other wood species—that is for good reason. The innate resilience of Incense Cedar makes it an ideal candidate for log cabins, which are often built in wilderness locations where the elements can be the most severe. 
Stability
Stability is the term used to describe the contraction and expansion of wood in various temperature and humidity conditions.
It's common knowledge that log homes settle over time, but what is little known is that when building with Incense Cedar, there is very little settling of the log walls. When other wood species are used, it is common to expect inches of settling, yet when constructing with Incense Cedar, only a fraction of an inch is experienced. As a result, the homeowner saves money as the cost of settling jacks, slip joints in plumbing, and other materials needed to accommodate inches of settling  over time are not required.
In addition, because Incense Cedar does not settle as much, it allows the homeowner to build with solid log gable walls rather than framed walls, which further enhances the authenticity and beautiful appearance of log homes.  
Cost Effective
The cellular structure of this particular species of cedar wood encapsulates small air pockets, which enhances its insulation ability.
In fact, Incense Cedar is the most insulating wood choice on the market.
Because of its open cell structure, it gives off moisture very rapidly.  What is equally surprising is that it doesn't shrink much while doing it. That means that the cracks, called checks, are smaller than with other wood species and there is no need to incur the cost of kiln drying the logs. In fact, this process is essentially fruitless anyway as kiln drying only affects the outside inch of the log surface. 
Versatility
Incense Cedar wood is incredibly versatile, lending itself well to a myriad of applications. In fact, it is SO versatile that it was once the primary material for pencils as it can be sharpened easily without producing splinters. Due to its stability, the wood does not expand or contract much. If it did, the pencil lead would be broken into small pieces. Its versatility allows it to seamlessly fulfill every need of your luxury log cabin project, from sturdy cabin walls to, decking, railing, tongue & groove soffits and ceilings, fascia, siding, and exquisite interior trim.
Beauty
Incense Cedar boasts a stunning warm red and white color and natural grain that enhances the rustic charm of log cabins. Due to its stability and reduced checking, the checks that do appear are substantially fewer and smaller than in other wood species.
Additionally, cedar wood emits a soothing aroma, creating a welcoming and relaxing ambiance in your new home. You will truly get that 'log cabin' feeling from this exquisite wood.
Sustainability
If you're environmentally conscious, this species is a standout choice in building materials. Cedar trees grow relatively quickly and can be harvested sustainably. 
In fact, for the past number of years Sierra Log & Timber has been working closely with loggers who do clean up after the wildfires in California to purchase the Incense Cedar logs that were killed in those fires. Since then, and as long as supplies last, they will continue to turn fire-killed trees into beautiful log homes—promoting a creative and sustainable approach to repurposing these natural raw materials. 
4 Ways to Integrate Incense Red Cedar into Your Luxury Log Cabin Build
You know you want the classic red-ish color palette, enticing aroma, and all-around charm of Incense Cedar, but where do you start? Here are some vital tips about utilizing this type of wood in your project and for streamlining your building experience overall:
1. Correct Components
As previously mentioned, Incense Cedar is naturally resistant to insects and decay.  Therefore, all parts of a log home that are exposed on the exterior and subject to the weather should be built using Incense Cedar. The use of any other type of wood means that it is likely to deteriorate prematurely resulting in costly repairs and excessive maintenance.
2. Choose the Right Grade
Incense Cedar is available in various grades, from clear to knotty and with various grade levels. Your choice will depend on your budget and the desired appearance of your log cabin.
Consider opting for a higher grade with an acceptable number of knots. Knots add to the dynamic appearance of logs but it is possible to have such large knots that it affects the structural integrity of the logs. 
Like lumber, logs are graded. It is advisable to use logs for walls that are TPI grade 40 or higher and beam logs graded Premium. TPI refers to Timber Products Industry: a standard established for grading logs similar to #2 and better for lumber. In the industry, there are log grades that have other labels, such as Rustic and Cabin Grade, which are names given to logs by other producers because they are not of high enough quality to meet any minimum grading standard. Be certain to know what quality of logs you are buying, as labels other than TPI are of inferior structural grade and are given such names to mask the true grade of the logs.
3. Work with an Experienced Builder
Building a log cabin is a complex process. Collaborating with a skilled builder experienced in working with cedar is essential. They can help you select the appropriate wood grade and design a log cabin that blends beauty with durability.
4. Commit to Regular Maintenance
Although Incense Cedar is exceptionally durable, proper maintenance is crucial for its long-lasting beauty and structural integrity. Regular cleaning, inspections, and timely repairs are essential to preserve your investment for future generations.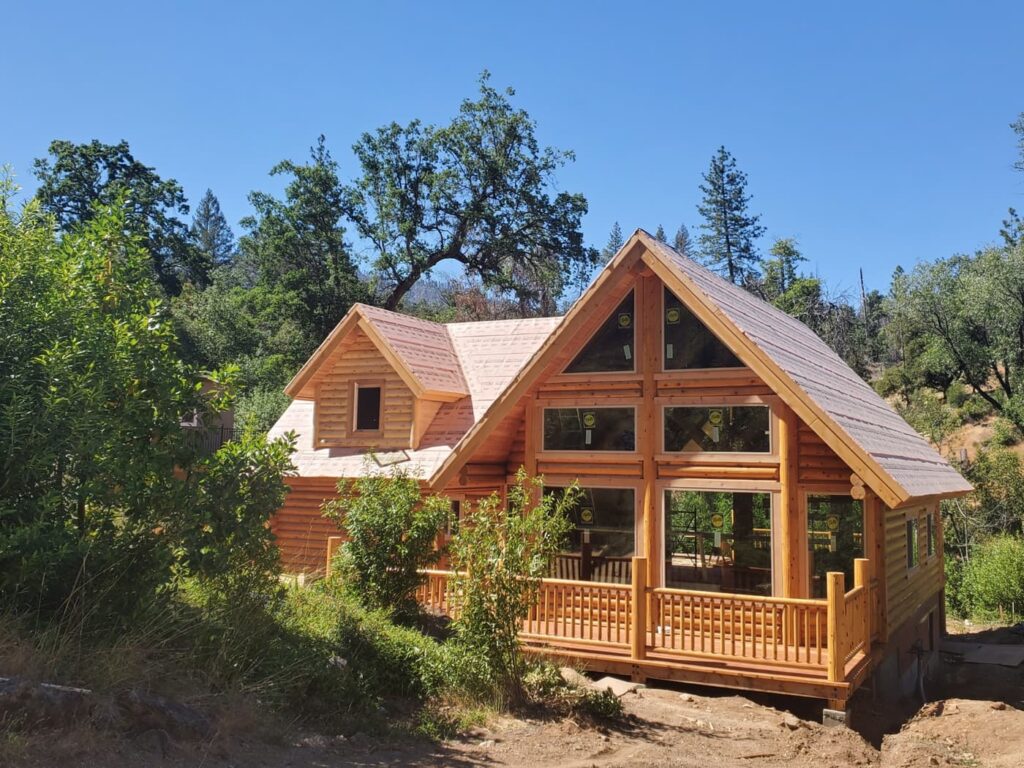 What Parts of Your Log Cabin or Wood Structure Can You Use Incense Cedar for?
Wood, stone, steel and other natural materials are the stars of the show when it comes to luxury log homes. If you're in love with the versatility, appearance, and many benefits of using Incense Cedar, here are a few ways you can integrate this remarkable wood into your project:
Log Cabin Walls
Incense Red Cedar is preferred for log cabin walls for all of the reasons listed above.  
Exterior
Incense Cedar helps protect  all aspects of log cabins and associated structures from decay, insects, and the elements, further enhancing their longevity. Its naturally rot-resistant nature provides peace of mind knowing you will be using naturally durable wood without added chemicals for your cabin or other outdoor structures.
This wood is the ideal material for: siding, soffit, fascia, exterior trim, railing, decking, structural and decorative trusses, gazebos, shade structures, outdoor barbeque areas, pump houses, she-sheds, storage facilities, and any other place on your cabin or other structure that is exposed to the elements.
Interior
The wood's inviting warmth makes it a top choice for interior finishing materials. It contributes to the beauty and enhances the cozy and inviting atmosphere inside your cabin.
Incense Cedar is the perfect choice for: trim, a fireplace mantle, decorative or structural timbers, trusses and beams, tongue and groove ceilings, wall paneling, etc.
Bringing Your Log Cabin Visions to Life
Are you ready to turn your log cabin dreams into a tangible reality? Sierra Log & Timber is your trusted partner in crafting the luxury log home you've always imagined. Sierra Log & Timber is the leading producer of Incense Cedar log home building materials in North America, producing millions of board feet of log and timber products annually. The experienced team is ready to guide you through every step of the process and has engineers on staff who hold engineering stamps in the state you wish to build: they are the experts in modern luxury log home design and custom builds. From selecting the finest Incense Cedar to bringing every other aspect of your home to fruition, expert assistance in creating your luxurious retreat awaits.