Build a Red Cedar Barn
or Barndominium
Our red cedar barns are the perfect addition to your property. Versatile and beautiful, your new barndominium can be used for housing animals, extra living space, a gorgeous event venue, or a combination of all these uses. Whatever you are hoping to do, partner with us to plan and design your build!
Experience Unmatched Quality and Style
with Our Barns and Barndominiums
Our quality materials and process set our barns apart from the competition.
Design
We design the barn together for its use on your property, and all wall frames are tailored to each specific barn.
Plans
Our plans are site engineered, matching the plan to the building site on your property.
Species
We are the only source of red cedar, which is more durable, longer lasting, and used for our posts, frames, and sidings.
Structure
All of our material is structurally graded; we are the only producer offering timber and log (round) products.
Custom
From design to structural layout, every aspect of your barn can be tailored to your needs.
Service
Our team is personable and knowledgeable, and we produce and sell directly to you, the customer, with no need for a builder or supply store.
Ready to Create? Use Our Free Tools
Get started with the plans for your dream barn using our premium barn design tools. We developed these state-of-the-art tools to empower you to visualize your barndominium in detail and get a jump start planning out your project so that you can design the ideal structure for you.

Start with our Barn Designer to visualize and design your barn or barndominium from scratch. We'll take that plan and price it out, so you know exactly what to expect.
Use our Barn Calculator to get a cost estimate based on a standard build and existing barn plans.
BARN CALCULATOR IS COMING SOON
Want more information about how to start your barn or barndominium project?
Together, we will design a barn to fit your exact needs. Fill out the form to get started.
Browse design plans and details for some of our most recent barn and barndominium designs.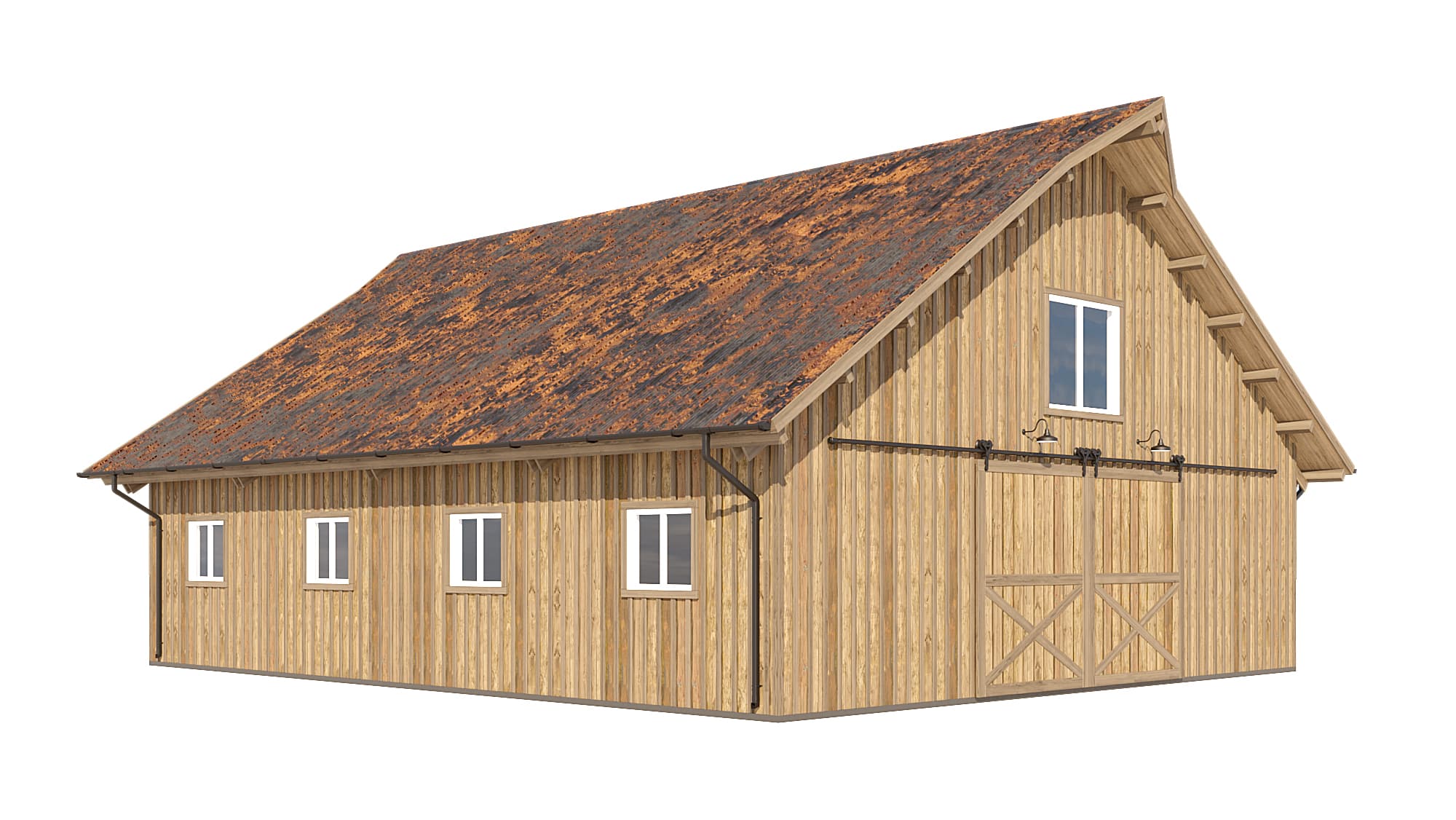 Western Gable Barn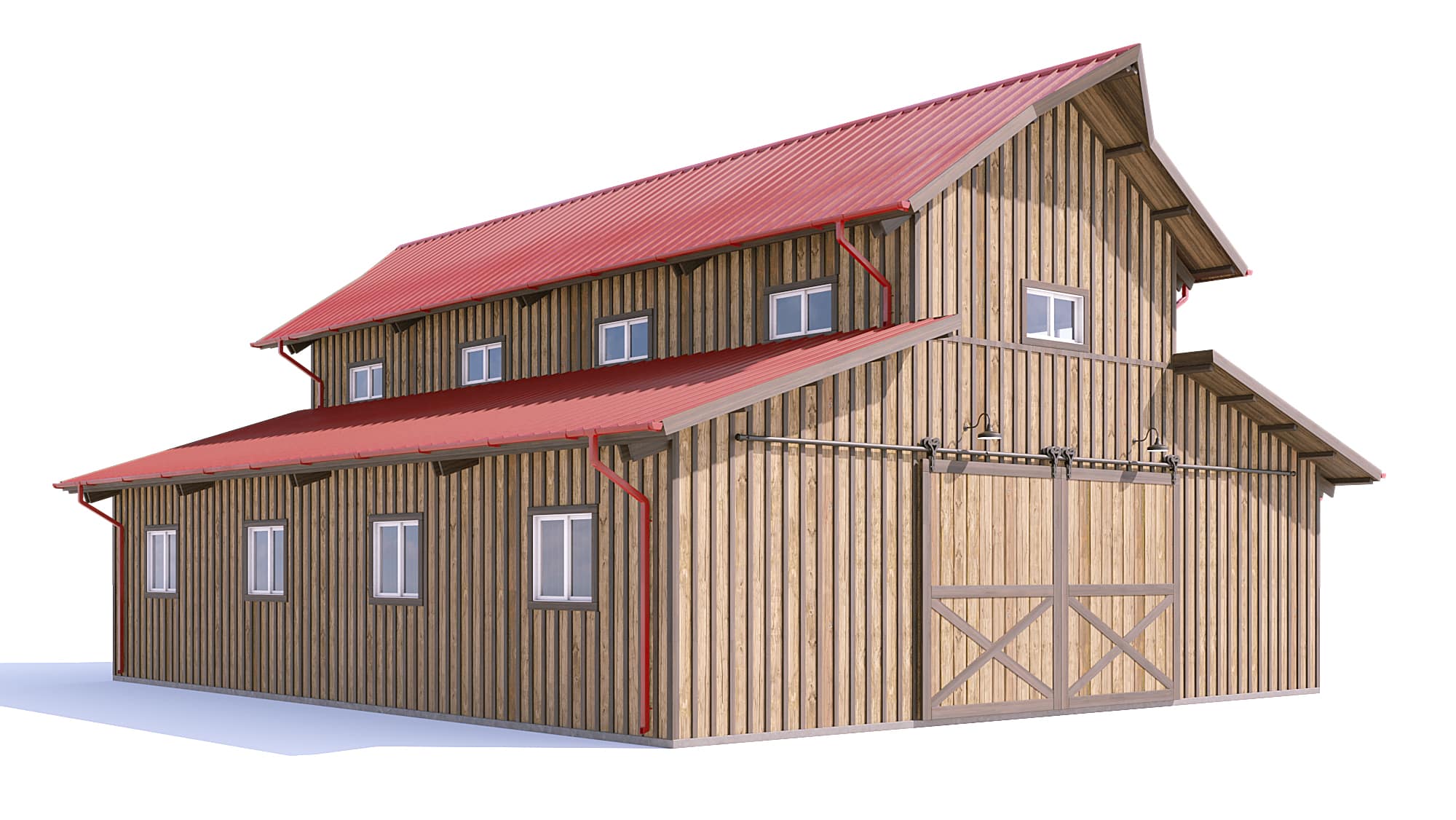 Monitor Barn
Frequently Asked Questions
Our Standard Barn Package
All of the material is a rough-sawn cedar product, except for the roof and loft decking, which is a Douglas Fir material. Our calculator is based on our standard barn package, which includes the following list of materials.
Engineered plans
Posts – 6×6 
Wall headers (exterior & interior) – double 2×8
Wall girts (lower & upper) – 2×6
Window & door posts (upper & lower) – 4×6
Lower separator headers – 6×6
Wall & truss knee braces (upper & lower) – 6×6
Loft girder – 6×10
Loft joists – 4×10
Loft decking – 2×6 Douglas fir T&G
Roof rafters (lower & upper) – double 2×8
Roof truss bottom chord (upper) – double 2×10
Roof kingpin & webs – 6×6
Roof purlins (lower & upper) – 4×8
Roof decking (lower & upper) – 2×6 Douglas fir tongue and groove 
Roof fascia (lower & upper) – 2×8
Roof fascia drip edge (lower & upper) – 2×4
Wall sheeting – 1×10 & 1×3 board & batten
Door & window trim – 2×6
Barn doors (2) 
Timber stairs
Timber rail for stairs
Hardware
a. Post bases
b. Hangers for specific beam connection
c. Fasteners for connections
d. Barn door hardware